BCE Slate Pool / Snooker Tables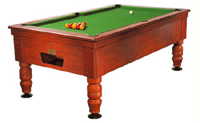 We are able to offer you a great deal on a superb range of slate indoor pool tables made by BCE Ltd. We can supply any product offered by BCE Ltd to all our visitors. Do you see yourself as a budding Ronnie O'Sullivan or perhaps you remember the good old days cheering on Jimmy "Whirlwind" White ? Whatever your motives you can be assured that a slate table from BCE will bring years of fun and excitement. Just look at the quality and style of the superb Westbury Pool Table on the left.
BCE are the leading supplier of slate bed snooker and pool tables in Europe. Their portfolio ranges from cues, cases, clam packaged accessories, to the World famous Westbury snooker table used continuously from 1982-1992 for all World professional televised events. During the past three years BCE have invested in the development of quality home tables (BCE Table Sports 2000 series), ranging from snooker and pool to mini soccer, to the latest ice hockey tables. Sales of this product group have doubled over the last three years since their introduction.
BCE currently sponsor three of the most exciting players involved in snooker, Jimmy "Whirlwind" White, Ronnie "Rocket" O'Sullivan and Marco "The Dragon" Fu. All BCE produ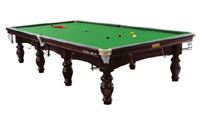 cts are carefully selected by Jimmy and Ronnie, more recently Marco has also been called upon to provide invaluable technical support to the BCE buying team. BCE's philosophy is, "let the professionals guide you, that's what they are there to do", so we at BCE take full advantage of their extensive knowledge of the game before any product is introduced to the BCE range.
You may be thinking how much does all this cost? The answer is, not as much as you think. In fact we know you will be surprised, when you take the first step and purchase a BCE product. BCE are way out in front, 20 years of traditional values carrying us through to the new Millennium.
Please use the grid below for more information on our range of slate bed
pool and snooker tables
Can't find what you're looking for ?
Click on the images below for more choice from our full range



Order online or phone us on
01342 833 464
to place your order now


Chat with one of our online assistants (Available at limited times only)