Intex Above Ground Round Frame and Ellipse Swimming Pool Offer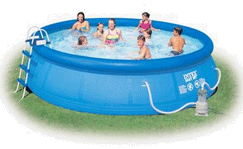 We are delighted to bring you a brand new range of Intex Above Ground Swimming Pools. We have managed to negotiate a fantastic deal with a local Intex Above Ground Pool Supplier. As such we can now supply the full range of Intex Above Ground Swimming Pools.
Our supplier is the world's largest wholesale distributor of swimming pools (above ground pools) and related equipment. Incorporated in 1993, they have grown to their present size of over 200 service centre locations. The company has over 2,500 employees supporting the distribution of more than 91,000 national brand and private label products to nearly 48,000 customers. They offer a comprehensive selection of above ground pools, metal framed pools and associated filters, heaters, covers etc.
Since our suppliers introduced the Intex Easy Set Pool range of swimming pools to the UK, many other companies have jumped on the band wagon. We have chosen them to supply our above ground pools and metal framed pools due to their wealth of experience in the swimming pool industry and their proven superb customer support skills.
Please click here for our comprehensive range of accessories for the pools. You will need to consider buying chemicals and additional filter cartridges at the very least.
Please use the grid below for more information on our range of Above Ground
Swimming Pools - Easy Set Pools and Metal Frame Pools
Intex Easy Set Above Ground Swimming Pools

Intex 15ft x 36" Deluxe Round Easy Set Pool
(Includes filter pump, ladder, ground cloth, cover, maintenance kit, surface skimmer and DVD)

Intex 15ft x 42" Deluxe Round Easy Set Pool
(Includes filter pump, ladder, ground cloth, cover, maintenance kit, surface skimmer and DVD)

Intex 15ft x 48" Deluxe Round Easy Set Pool
(Includes filter pump, ladder, ground cloth, cover, maintenance kit, surface skimmer and DVD)

Intex 18ft x 42" Deluxe Round Easy Set Pool
(Includes filter pump, ladder, ground cloth, cover, maintenance kit and DVD)

Intex 18ft x 48" Deluxe Round Easy Set Pool
(Includes filter pump, ladder, ground cloth, cover, maintenance kit and DVD)

Intex Round Metal Frame Above Ground Swimming Pools

Intex 10ft x 30" Round Metal Frame Pool
(Includes filter pump and DVD, plus free debris cover)

Intex 12ft x 30" Round Metal Frame Pool
(Includes filter pump and DVD, plus free debris cover)

Intex 15ft x 36" Round Metal Frame Pool
(Includes filter pump, ladder, ground cloth, cover, maintenance kit, surface skimmer and DVD)

Intex 15ft x 42" Round Metal Frame Pool
(Includes filter pump, ladder, ground cloth, cover, maintenance kit, surface skimmer and DVD)

Intex 15ft x 48" Round Metal Frame Pool
(Includes filter pump, ladder, ground cloth, cover, maintenance kit, surface skimmer and DVD)

Intex 16ft x 48" Round Metal Frame Pool
(Includes filter pump, ladder, ground cloth, cover, maintenance kit, surface skimmer and DVD)

Intex 18ft x 48" Round Metal Frame Pool
(Includes filter pump, ladder, ground cloth, cover, maintenance kit, volleyball set and DVD)

Intex 24ft x 48" Round Metal Frame Pool
(Includes filter pump, ladder, ground cloth, cover, maintenance kit, volleyball set and DVD)

Intex 16ft x 48" Ultra Frame Round Metal Frame Pool
(Includes filter pump, ladder, ground cloth, cover, maintenance kit, surface skimmer and DVD)

Intex 18ft x 52" Ultra Frame Round Metal Frame Pool
(Includes filter pump, ladder, ground cloth, cover, maintenance kit, volleyball set and DVD)

Intex Oval Metal Frame Above Ground Swimming Pools

Intex 20ft x 12ft x 48" Oval Framed Pool
(Includes filter pump, ladder, ground cloth, cover, maintenance kit, volleyball set and DVD)

Intex 24ft x 12ft x 48" Oval Framed Pool
(Includes filter pump, ladder, ground cloth, cover, maintenance kit, volleyball set and DVD)

Intex 28ft x 12ft x 48" Oval Framed Pool
(Includes filter pump, ladder, ground cloth, cover, maintenance kit, volleyball set and DVD)

Intex Ultra Frame Metal Rectangular Above Ground Swimming Pools

Intex 9ft x 18ft x 52" Rectangular Ultra Frame Pool
(Includes filter pump, ladder, ground cloth, cover, maintenance kit, volleyball set and DVD)

Intex 12ft x 24ft x 52" Rectangular Ultra Frame Pool
(Includes filter pump, ladder, ground cloth, cover, maintenance kit, volleyball set and DVD)

Intex 16ft x 32ft x 52" Rectangular Ultra Frame Pool
(Includes filter pump, ladder, ground cloth, cover, maintenance kit, volleyball set and DVD)

Intex Sequoia Spirit Wood-Grain Frame Above Ground Swimming Pools

Intex 16ft 8" x 49" Sequoia Spirit Wood-Grain Frame Pool
(Includes filter pump, ladder, ground cloth, cover, maintenance kit, surface skimmer and DVD)

Bestway Portable Spa's
(* - Free delivery to mainland UK only. Please contact us for delivery costs for Highlands and islands)
Order online or phone us on



to place your order now


Chat with one of our online assistants (Available at limited times only)