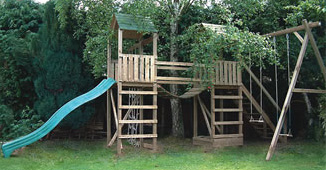 We are one of the most successful retailers of this superb range of Wooden Climbing Frames made by Action. We can supply any climbing frame offered by Action to all our visitors with loads of cheap accessories. Not only have we managed to save you money on the suggested retail price of these climbing frames, we're also offering additional accessories at up to 40% off, if ordered with a play centre. This gives you the chance to build the climbing frame to your exact requirement and save money while you do it. Click here to see the full range of accessories. Due to the expert knowledge we have built up over the years selling these climbing frames we have been awarded the 5 Star Stockist accreditation from the manufacturers. Click the logo on the right or click here for more details.
Do you remember when we had metal climbing frames, if we were lucky ? These are quite literally the next generation climbing frames. Action Tramps have been specialist manufacturers and distributors of wooden climbing frames throughout the UK since 1987. They only supply tried and tested Australian and European climbing frames designs subject to their own rigorous in-house quality control. Please be aware that these playcentres are for home domestic use only, if you have a commercial application please contact us with your requirements.
We have been retailing these play centres since day one and have built up an in depth knowledge of them. You can make use of our years of experience in selling, designing and building these play centres, by contacting us on 01342 833 464 with any specific requirements. Also by ordering through us we can save you money on the best quality wooden climbing frames available in the UK today.
Unlike most websites we have experience in building these play centres, so please call us today to discuss your requirements. We have included a few images from a recent build, please click here for more details......
The goods are shipped direct from the manufacturer and are covered by their comprehensive guarantees. Our personal customer service is second to none (as you can see from our "Why buy from us ?" page), satisfaction guaranteed. Why would you order from anyone else ?
Please see below details of our range of Wooden Climbing Frames. We are also able to design and build a wooden climbing frame to your specifications.
For details of our build service please contact us on 01342 833 464


Climbing Frames, Climbing Frames
Order online or phone us on
0800 652 9992
to place your order now


Chat with one of our online assistants (Available at limited times only)