Bocart Off Road Petrol Go Karts Offer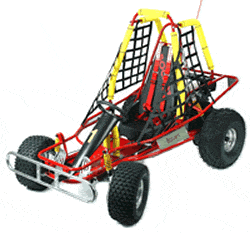 We are able to offer you a great deal on a superb range of motorised off road petrol go karts made by BoCart in Denmark. We can supply any of their petrol go karts to our visitors at reduced prices, see the table below for details. We also provide a list of any second hand, or ex-demo karts that are available for sale on our "Used Bocarts" page.
Did you ever want a petrol driven go-kart as a child ? Well now you can buy one for your children that you can use yourself ! These BoCarts have disc brakes, double brake cables, H-seat-belt, high seat frame, adjustable seat, 2-wheel drive (rear - for more power slides !), closed bearings in steering gear and parking brakes. What's more they are fantastic motorised fun !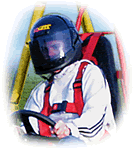 Bigger toys for bigger girls and boys. Bocart off-road karts are built for thrill seeking 'petrol heads' so don't let the kids see how much fun you are having or in a few years they will be after one as well !
These wicked machines are hand built in Denmark. Please click here to read more about the company and for some more great images of the petrol go karts in use.
By ordering through us we can save you money on the best petrol go karts available in the UK today. The goods are shipped direct from the manufacturer and are covered by their comprehensive guarantee. Our customer service is second to none, satisfaction guaranteed.
I have personally tested all the karts in this range, purely to enable me to answer your queries better.....well that was my excuse anyway ! Please phone Steve on 01342 833 464 to discuss further.
Please use the grid below for further details of our range of Bocart motorised karts.
You've decided to buy a Bocart from an online store...we want to sell it to you.
Phone us now on 01342 833 464 to arrange to see one !
If you'd like to see a Bocart before you buy one, please contact us. We are just a round the corner from the sole UK distributor and so can organise viewings of the full range of karts.
Order online or phone us on
01342 833 464
to place your order now


Chat with one of our online assistants (Available at limited times only)