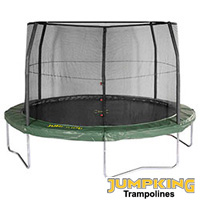 We have managed to negotiate a fantastic deal on these Jumpking Trampolines "must have" garden accessories. We have a large stock of Jumpking Trampolines available for immediate despatch. Trampolines are great ! Order now and get bouncing !Originally located in Dallas, Texas, Jumpking is the largest trampoline manufacturer in the world. Their unrivalled 50 years experience in manufacturing and distribution has allowed them to develop highly specified, tough, good value trampolines. Well over 2 million of the Jumpking trampoline models on these pages have been sold worldwide since 1989.
These JumpKing trampolines are tremendous fun for all the family and encourage children of all ages to play together. They are super conditioners that build strength, stamina, confidence and co-ordination. The round design encourages the jumper to stay in the centre to enjoy a deep, lively bounce. They can be left outside all year round and will give years of trouble-free enjoyment.
By ordering through us we can save you money on the best, high quality jumpking trampolines available in the UK today. The goods are shipped direct from the manufacturer and are covered by their comprehensive guarantee. Our customer service is second to none, satisfaction guaranteed. Why would you order from anyone else ?
The Jumpking JumpPOD trampoline is one of the most exciting trampoline innovations to date, and is available to order now. Featuring the Tri-layer Socket, the enclosure poles slot directly into the trampoline top rail, completely removing the need for brackets! You have a great looking product that takes a fraction of the time to assemble compared to any other system. Plus, the new Euro-Spring 'over and under' configuration reduces stress on the frame, increasing durability and optimising the jumping performance. The Jumpking JumpPOD trampoline is backed by the Jumpking name, the biggest trampoline manufacturer in the world, with more worldwide sales than any other brand.
Please use the grid below for more information on our range of Jumpking Trampolines
For Jumpking parts click here for pads, beds and springs
Order online or phone us on
01342 833 464
to place your order now


Chat with one of our online assistants (Available at limited times only)