Radio Flyer Toys Offer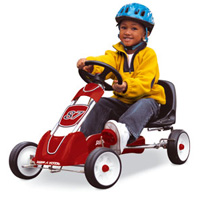 We are able to offer you a great deal on a superb range of Radio Flyer toys. We can supply any of their pedal go carts to our visitors at reduced prices.
An American Icon for Over 85 Years

Like the Original Red Wagon that lent our company its name, Radio Flyer has become an American Classic. From humble beginnings, Radio Flyer has been rediscovered with each new generation — creating a legacy of toys that continue to spark the imagination.

For over 85 years, millions of children have played with Radio Flyer wagons launching countless voyages of imagination. Their beauty, simplicity, and standards of safety encourage adventure, discovery, and the wonders of childhood.

As the new millennium gains momentum, we're still in the driver's seat… Creating tomorrow's innovative products with the same classic quality and sheer sense of play that have been our trademarks from the beginning.

Radio Flyer wagons are truly icons of America.
Please use the grid below for details of some our range of Radio Flyer Toys.
Order online or phone us on
01342 833 464
to place your order now


Chat with one of our online assistants (Available at limited times only)