Dino Cars Pedal Go Karts Offer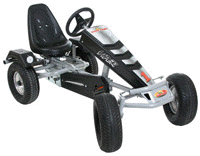 We are able to offer you a great deal on a superb range of pedal go karts made by Dino Cars in Germany. We can supply any of their pedal go carts to our visitors at reduced prices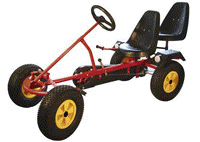 . Just have a look at our range and our prices.
Did you ever want a go-kart as a child ? Well now you can buy one for your children that you can use yourself ! These Dino Pedal Cars, Go-karts, Quads, Pedal Karts, Pedal cars, Trikes, Trailers and Scooters are made in Germany to a high quality and carry a five year guarantee.
Don't Just Buy Any Old Go Kart
Fully floating front axle, enclosed chains, mudguards with reflectors, parking brake, pneumatic tyres and heavy-duty wheels with sealed for life bearings are all standard items on most Dino Cars and a tow hitch on all. Baked enamel paintwork helps your Dino pedal go kart keep its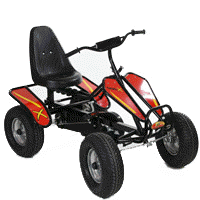 good looks for years and as we have made karts for camping grounds and youth groups for over 5 years you don't have to question the rugged reliability either.
By ordering through us we can save you money on the best pedal go carts available in the UK today. The goods are shipped direct from the manufacturer and are covered by their comprehensive guarantee. Our customer service is second to none, satisfaction guaranteed. Why would you order from anyone else ?
Built For The Great Outdoors
You can use your Dino kart almost anywhere, all are geared to make pedalling as easy as possible and for the tougher going you can always go for a 3 or 5 speed model. All Dino Cars carry both the CE and TUV standards, and we warranty our chassis for 5 years, 2 years on the remaining parts. Warranty covers faulty parts.
If you want to see how big these karts are please click here for some images of myself and my daughter on the Dino Basic ZF.
For a full list of karts and their features please click here
Please use the grid below for details of some our range of Dino Cars.
Order online or phone us on
01342 833 464
to place your order now


Chat with one of our online assistants (Available at limited times only)