Gold Premier Trampoline Offer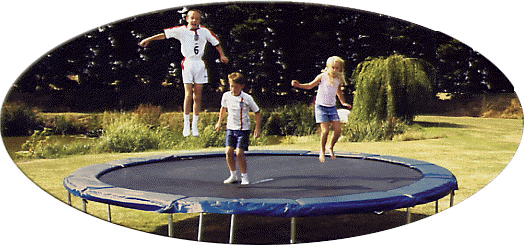 We have managed to negotiate a fantastic price on this superb range of garden trampolines. We can supply any product offered by Trampolines GB to all our visitors. By ordering through us we can save you pounds on the best, high quality trampolines available in the UK today. The goods are shipped direct from the manufacturer and are covered by their comprehensive guarantee.
The UK's innovative and leading family run business of Trampolines GB is a subsidiary of Ceetex Leisure Limited, renowned major manufacturers of competition trampolines and ancillary equipment since 1983. Responding to an ever increasing demand for quality, safe, good value Garden Trampolines, the Ceetex team with well over 100 years accumulative, unrivalled experience in the industry, launched the range under the Trampolines GB banner. Designed and built to our own exacting specifications and quality standards, they are manufactured exclusively for Trampolines GB from the finest materials especially for the European climate and represent outstanding value to you, the customer - guaranteed!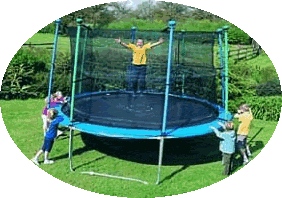 Trampolining is not only enormous fun for all the family; it is a healthy activity that improves fitness, muscle growth, coordination, breathing, posture, balance, lung capacity, self confidence and vision. Trampolining is widely used and recommended by Special Needs & Parents Ltd for children with special needs to assist with their physiological, therapeutic, communicative and perceptual aspects.

Our trampolines exceed ASTM and GS and TUV standards and are load tested with no less than 445 kilograms (1,000 pounds) of steel weights. Our complete range is designed for outdoor use and can be left out in all weathers. If you live in an exposed, windy area, please consider one of our Anchor Kits. Weather damage is not covered under our guarantee. A trampoline from Trampolines GB will be an excellent investment for all the family. From the smallest Mini-Trampoline through to the exclusive and new heavyweight rectangular range, cleverly designed to take the optional safety enclosure to the muscular, round Gold Premier range, we cater for everyone.
Please use the grid below for more information on our range of
Gold Premier Trampolines from TrampolinesGB
Order online or phone us on
01342 833 464
to place your order now


Chat with one of our online assistants (Available at limited times only)