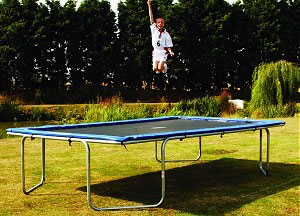 Dimensions of frame - 15ft x 9ft x 39".
Frame - 12 gauge (48mm dia. tubing - double rail), anti-rust, galvanised steel, zinc coated.
Bed - 13ft 1" x 7ft 2" (94sq.ft.), heavy duty Grade A black Permatron polypropylene mesh fabric with central target area.
Pads - 30mm thick, UV proof, extra heavy duty 20oz reinforced PVC all round and shock absorbing closed cell, expanded polyethylene foam infill.
Steel springs - 98 Zinc plated, heat tempered.
Single user weight - 25 stone (160kg).
Assembly time (2 persons) - 50 mins.
Carton weight - 103.0kg (2 cartons)
Choice of Royal Blue or Forest Green pads.
Patent pending spring loading tool.
Owners manual and lesson plan.
Waterproof and weather proof.
No tools required for assembly.
Free removable ladder.
Free protective cover.
10 year guarantee on frame.
5 year guarantee on the bed, pads and springs.
Next working day delivery (UK mainland).
Note: 12 gauge steel is thicker than 14 and 16 gauge.