Action Tramps -
Monkey Bars

Does your child climb like a monkey ? Then why not buy a superb set of monkey bars to practise on.
Our Monkey Bars follow the traditional design of sturdy horizontal support beams (9cm x 9cm (3.6") square) fitted with substantial ash hardwood rungs 4cm in diameter. Incorporated is a climbing tower and platform with the option of a 2.5m (98") wave slide to give younger children their own play area. A generous 8 rung by 4 strand commando net bolts across the tower for maximum play activity and the development of climbing skills. Stability is provided by broad lateral stabilisers at each end of the bars as well as the commando net frame on the tower end of the monkey bars.
In the interest of safety, we only supply ONE pair of swing hangers with the monkey bars. These allow the swing to be placed at either end of the beam, or in the centre. If you wish to fit TWO swings, please ask us to supply another set of swing hangers, but we would STRONGLY SUGGEST that you also purchase a pair of our ground anchors to provide maximum stability. We DO NOT RECOMMEND two sets of swings being fitted where the children would be over 8 years of age. As not every family will require swing(s) on their monkey bars, they are not supplied as standard, but can be purchased separately.
Due to the expert knowledge we have built up over the years selling these climbing frames we have been awarded the 5 Star Stockist accreditation from the manufacturers. Click the logo on the right or click here for more details.
Wooden Monkey Bars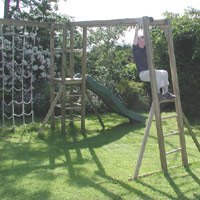 Click to enlarge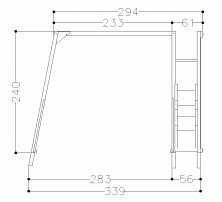 All dimensions in centimetres
Features:

Green 2.5m wavy slide

Commando net

Wooden platform at one end
All fittings and bolts galvanised
10 year Guarantee against wood rot

Dimensions
We have been retailing these play centres since day one and have built up an in depth knowledge of them. You can make use of our years of experience in selling, designing and building these play centres, by contacting us on 01342 833 464 with any specific requirements. Also by ordering through us we can save you money on the best quality wooden climbing frames available in the UK today.
Unlike most websites we have experience in building these play centres, so please call us today to discuss your requirements. We have included a few images from a recent build, please click here for more details......
Order online or phone us on
01342 833 464
to place your order now


Chat with one of our online assistants (Available at limited times only)