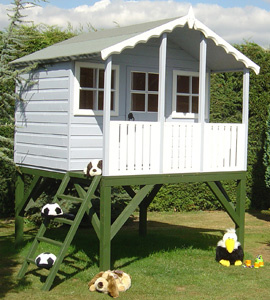 Image shows painted playhouse
(Shown with optional platform. If bought without the platform it comes with two railing sections that fit at the side of the veranda. Also there are only two uprights at the front so the front is open.)
The Stork Kids Playhouse is a special building. Not only is it pretty, it's optional high platform adds an opportunity for kids to look down on their parents! The ladder can be positioned at either side to best suit your garden. The Stork comes compete with a 2ft veranda canopy and 2 opening safety windows. It has been manufactured smooth planed white pine from sustainable forests. The Stork Playhouse comes with a pre-treated honey coloured preservative as standard, but to ensure a long life we recommend that a top coat treatment is applied. Mineral roofing felt and Perspex® safety windows are included as standard.
Construction: Whitewood Pine
Framing: 35x35mm
Walls: 12mm T&G shiplap
Floor: 12mm T&G
Roof: 11mm OSB
Door: Single door on width
Windows: 1 Window in Door, 2 Opening Windows
Glazing: Styrene
Preservative: Honey Brown, water-based treatment (inside and out)
Dimensions
Gable end: 6' (1.79m)
Sides: 4' (1.19m) plus canopy
Canopy: 6'x2'
Internal Eaves height: 3'9 (1.16m)
Ridge height: 5'1 (1.55m)
Ridge height when fitted to optional platform: 8'4 (2.55m)
Single door: 1'8 wide (520mm)