Hout-Land Child Play Centre
A real log house, built using round and half-round timber! The children can reach the tower by means of a ladder or a climbing rope, just like Tarzan in the jungle. For safety there is a horizontal bar above the slide and the ladder.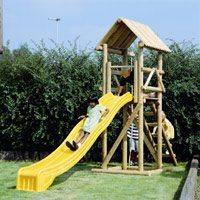 Action Tramps - Double Monmouth Child Play Centre
The Double Monmouth is similar to the Arundel Twin, but with larger 120cm (4ft) x 90cm (3ft) platforms. The two towers connect via a 1.6m (63") long clatter bridge. Access to the towers can be by the wide wooden staircase, up the wooden rungs or using the 8 rung by 4 strand commando net. Depending on your garden layout, the swing arm, commando net and 3m (10ft) wavy green slide may be positioned off the two towers in a variety of ways. Beneath one of the towers is a sandpit with seats for little children. The larger platforms and wooden roofs give a solid and impressive appearance to the Twin Monmouth, probably why this model is one of our most popular.