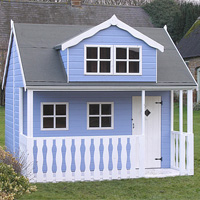 Click image to enlarge
Tree Top - Swiss Cottage Playhouse
(10' x 10')
The Rolls Royce of childrenís playhouses! Arranged over two levels this huge playhouse is exceptionally high quality. It has 4 fixed windows, made of a tough plastic glazing material, a dorma roof and huge veranda. The house can be pre-painted, delivered and installed - so you donít have to worry about a thing! It is constructed using high grade redwood pine. Prior to delivery our supplier will send you information on how to prepare the buildings base area. They will then arrange a convenient date for delivery. Should you prefer to install and paint the house yourself, this option is also available. Unpainted, the house is delivered to your door in sectional form, it is treated with one layer of undercoat but should be treated again within 3 months of assembly. It will require 2 people to assemble on a firm level base. Measures 244cmW x 305cmD. Height to eaves measures 167cmH; height to ridge measures 280cmH. Internal measurements: Ground floor 152cmD x 304cmW; Upper bunk measures 121cmD x 304cmW. Allow 4 weeks for delivery.
Additional Costs Explained:-
Installation: We can arrange for your playhouse to be installed upon delivery, so you can just sit back and watch it appear before your very eyes !
Top Coat: The playhouses arrive treated (with a base coat of spirit based treatment), but it's recommended that a top coat of treatment / stain be applied. We can arrange for this to be done before it's sent to you.
Decorative Coat: To achieve the look in our images the playhouse will have to be painted. We can do this during the build stage. Please click here for your colour choice and detail this in the checkout process.
Bearers: These playhouses need a good solid base, like concrete or patio, but we can organise to deliver to you large timber bearers to stand the playhouse on. This will avoid a permanent reminder of where the playhouse was if you move house and take it with you.